Aqua Oceanfront Resort is the perfect hideaway to host your own Yoga Retreat. We have had many influential yogis and retreat leaders at Aqua, including 109 World with Rachel Brathen, Meghan Currie, Yogascapes, Guru Jagat and many others. Our staff has an extensive amount of experience running retreats and hosting groups. Aqua's natural atmosphere is ideal for groups who want to focus on wellness for body and soul in a spectacular setting.  We offer competitive rates along with gorgeous natural surroundings and beachfront living for your group.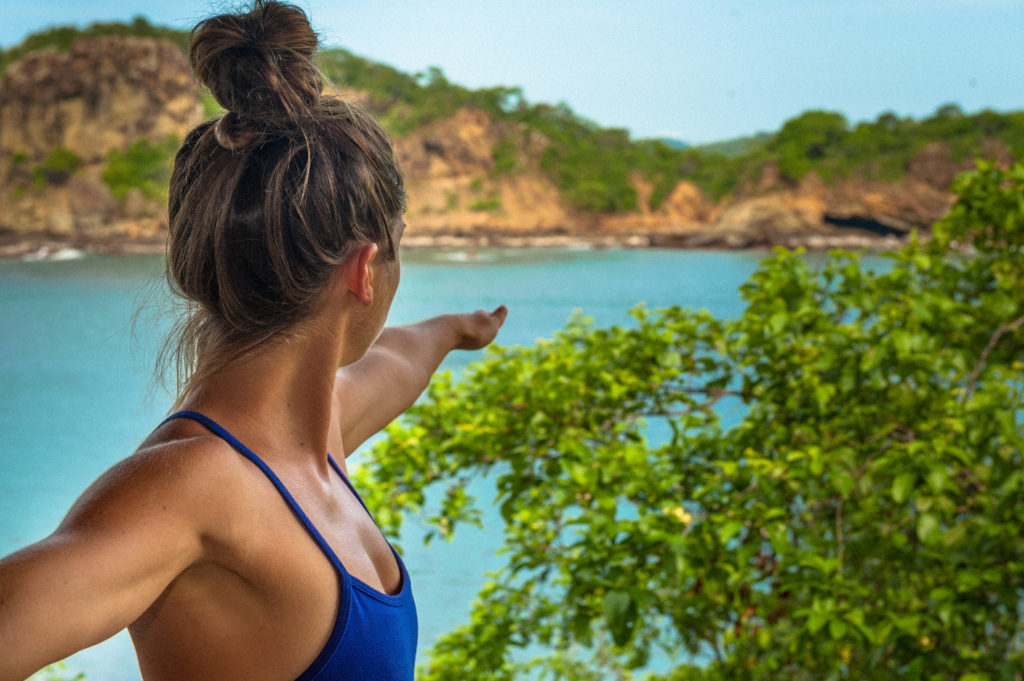 At a glance
Our unique Treetop resort is built to maximize harmony with our natural landscape, while a central staircase slopes down to Redonda Bay, a stunning private cove with tranquil waters and a white sand beach. All accommodation is spread throughout the trees in gorgeous luxury treehouse complexes with their own optional plunge pools.
Our oceanside Yoga platform has space for up to 28 practicing students (+plus two teachers) and is supplied with yoga mats, straps and blocks; the perfect place to strengthen, renew, and relax your body and mind.  The beach can also be used to arrange group activities, learning sessions or workshops.
It's our desire to make booking a retreat at Aqua Oceanfront Resort as easy and stress-free as possible. For this reason, our yoga packages come standard with everything you need to host a spectacular retreat and to save your very valuable time and effort in the process.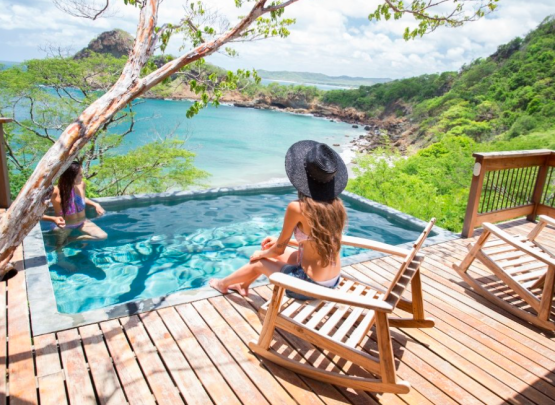 What Aqua will provide your group
Villa Accommodation Treehouse Studios or Luxury Suites for 4 or more nights.
Aqua Food & Beverage Staff 

will provide custom menu options for your group.

Roundtrip airport transfer 

conditions apply

One group hike

to Pie de Gigantic
The use of our ocean side yoga platform, equipment and beach toys (kayak, SUP's, snorkeling gear, etc).
Help organizing any extra spa treatments and/or activities you may want to add to your package including sunset cruise, excursions, surf lessons or a unique trip to the Masaya Volcano to witness the magic and power of live lava.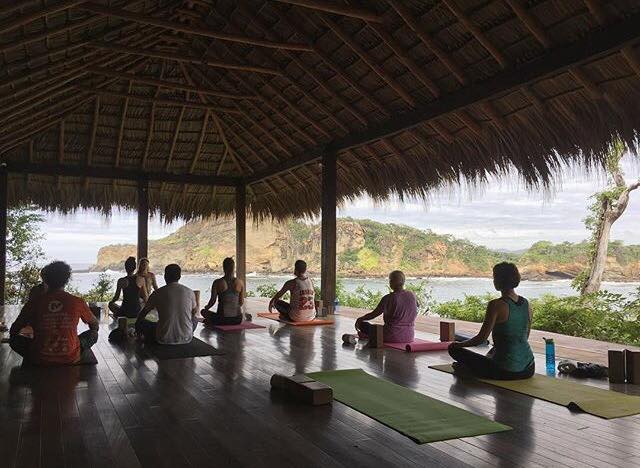 Activities Available Around Aqua
Surfing Taxis, Surfing Trips & Lessons
Fishing & Sushi Adventure
Snorkeling & Swimming Adventures
Catamaran Trips & Sunset Cruises
Sightseeing in Granada & Las Isletas
Discover the Volcanic Island of Ometepe
Horseback Riding "on survivor beaches"
Full Service Spa with Massage, Facials and more
Zipline through jungle canopy

The Yoga Space
Our principle open-air yoga deck overlooks the ocean, adding to the serenity of your yoga experience. Accommodating up to 28 mats, the platform has hardwood floors and is open on three sides and covered by a palm-thatched "palapa" roof. With unbeatable views it is often a highlight of many of our guests stay.
We provide all the necessary props including yoga mats, straps and blocks. The Yoga Space is free to be used by your retreat at set times. With 12 students or more joining your retreat we will adapt our class schedule to yours. Under that we ask you to adapt your schedule to ours.

The Treehouses
Within Aqua we have 24 Treehouse Villas comprising a total of 47 rooms which in turn are categorized as either Luxury Suites or Treehouse Studios. Our Treehouse Villas as well as our furniture were all handmade by local Nicaraguan crews using only in-country resources and sustainable local hardwoods. As the resort is connected by a network of stairs and walkways, our friendly staff at Aqua will take your luggage to and from your personal Treehouse.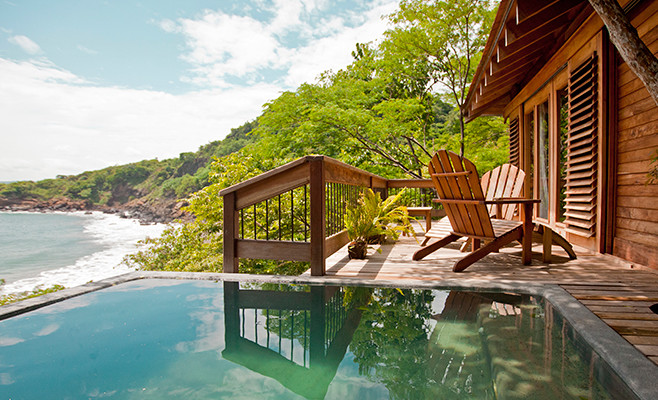 The entire structure of each villa is accessed by a large outdoor deck and private entrances. View options correspond with price and range from Beachfront, Ocean View, and Forest view.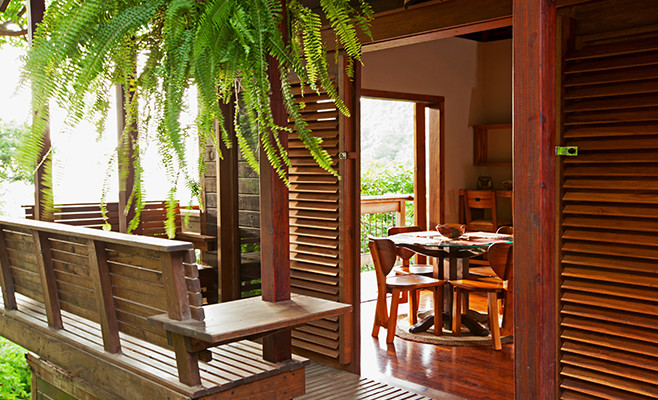 Treehouse Luxury Suites come with full kitchen, King-sized bed, air conditioning, living area (some living areas have an additional futon), and optional private plunge pool. These Luxury Suites can accommodate up to 3 people; 2 in the king-sized bed and 1 on the futon (there is no air-conditioning downstairs in the futon area).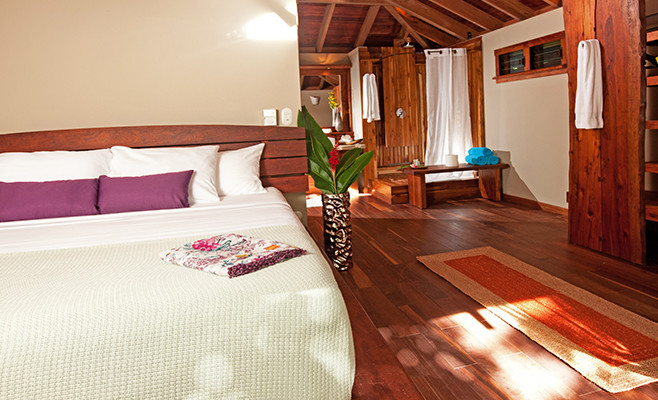 Treehouse Studios come with 1 Queen-sized bed (4 units have 2 Twin-sized beds), wine cooler or mini fridge, air conditioning, and full bathroom. Sharing the treehouse studio is the most economical price option for any retreat.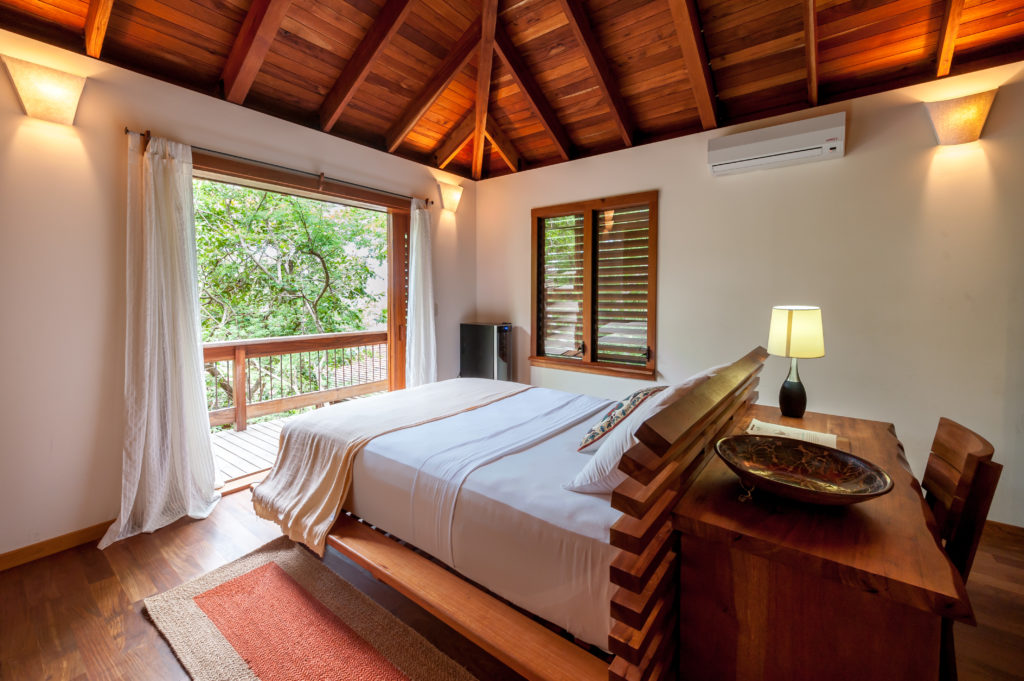 Customized Retreats or Packages
Please inquire with us about customizing a package for a larger group, more specific itineraries, etc. Aqua Wellness Resort is also available for large scale retreats including total Resort Buyout.
FAQ's about Aqua Wellness Resort
Be sure to explore our website and High Resolution Photo folder for more details regarding our eco-resort here in Nicaragua. Aqua Wellness Resort truly is a special place to nurture your body, mind, and soul amid the backdrop of lush jungle and Pacific Ocean.
Please read our FAQ page and visit our website to learn more about opportunities for your retreat.
Retreat dates can be reserved with a non-refundable deposit and signed contract.

Testimonials
109 WORLD "We just got back from Nicaragua from our first social mission trip as an organization. We were partnering with Aqua Wellness Resort to make this happen and we are so happy we did so. It is so inspiring to be working with a resort that wants to give back to their local community and shares the same values and visions for creating positive impact. Everything went super well. Coming to Nicaragua to do a mission like this was absolutely amazing and we were overwhelmed by the welcome we got from the locals and we felt safe. The beauty of the country is mind-blowing! Thank you so much Aqua and until next time." – Olivia Rothschild, 109 World Director
THE YOGA ELEMENT "We had a fabulous week. All of our needs were met with exceptional service, and several of our guests already inquired about whether we'll return next year. We had a great time, and the team at Aqua endeavored to make sure that we wanted for nothing – true VIP status. What a treat!" – Cecily Milne, Toronto (Instructor)
DEL SOL YOGA "First off our clients had a wonderful time and are already wanting to know the dates for next year. This is largely due to the beautiful facility, the excellent service at every turn and the magic that is Nicaragua." – Sifu Thomas Leverett, Austin (Instructor)
MOKSHA YOGA "We loved the environmental standards and how much of a low footprint you have at your resort. It's very in line with what we believe and strive to uphold in our community as well. The yoga space is gorgeous with a stunning view." – Jackie Quinnell, Ontario (Instructor)